Kane's doughnuts invades Boston Financial District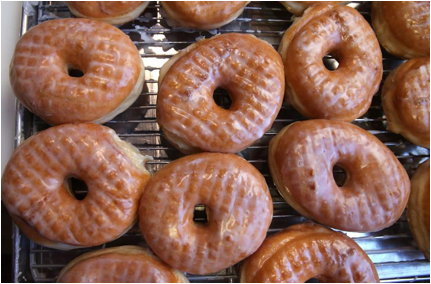 Don Chiofaro couldn't stop eating. His excuse?
"I have a long history with doughnuts," said the larger-than-life Boston developer between bites of a cream-filled concoction.
Turns out Chiofaro's father, Sam, was a cop in Belmont, and when his shift ended, he would pop into the neighborhood bakery, Anita's, to scoop up dozens of unsold doughnuts. He would pack them in his trunk and then drop them off at senior homes, playgrounds, and finally the Chiofaro household.
The story goes a long way to explain why the younger Chiofaro on Monday acted like he never met a doughnut he didn't like. Honey dip, Boston cream pie, chocolate, sea salt caramel, for starters. He must have sampled 20 different varieties.
To mark Wednesday's opening of Kane's Handcrafted Donuts at International Place, the tower Chiofaro built and manages, I needed to find out for myself why these doughnuts are such a big deal. It's just a fried piece of dough, after all. You can get those everywhere.
Besides, didn't the boom-and-bust of Krispy Kreme and Crumbs cupcakes teach us anything about getting frothy over a food fad?
What was in order was a doughnut throwdown worthy of celebrity chef Bobby Flay. Kane's, which does its frying and baking out of its Saugus store, brought in a batch of its finest. The Somerville upstart, Union Square Donuts, is closed Mondays but fired up its fryers just for us. And the doughnut king itself, Dunkin' Donuts, dispatched a dozen straight from the test kitchen at Canton headquarters.
Of course, Chiofaro took part in the taste test. Former Senate president Bob Travaglini, now a lobbyist with an office at International Place, joined us, as did Boston Harbor Association president Vivien Li and two Boston firefighters, Lieutenant Mike Walsh and Steve MacDonald.
There was one rule: Pace yourself.